ScotWind Leasing Round
Information on the 20 sites in ScotWind leasing round along with their associated developers
ScotWind leasing round
Crown Estate Scotland (CES) announced the results of the ScotWind leasing round on the 17th of January 2022. Eleven successful developers and consortia will now deliver the 17 sites which are a mixture of fixed and floating wind projects. The industry were expecting a capacity of around 10GW but the final total capacity for this round is now just under 25GW.
The huge leap in scale is due to the ever increasing size of offshore wind turbines. The Sectoral Offshore Wind Plan had set the hard limit for the round based on total seabed area which was not to exceed 8,600km2. The 17 sites amounted to 7,300km2 and, therefore, although the generating capacity was far in excess of the expected 10GW, the area limit was not reached as the turbine density was far higher than expected under the original plan from more than 4 years ago.
A further Clearing round increased the total number of sites to 20 with three additional projects off the East Coast of the Shetland Isles. This has increased the ScotWind round's total capacity to 27.6GW. A number of the developers have also increased the capacity of their ScotWind lease sites with two projects, Ossian and Caledonia, looking to add a further 1GW each and 400MW being added to Broadshore. This has increased the total capacity to 30GW.      
The listing below shows the developers on each of the 20 sites along with a map of Scotland showing the position of each lease area.
*hover / touch to see more information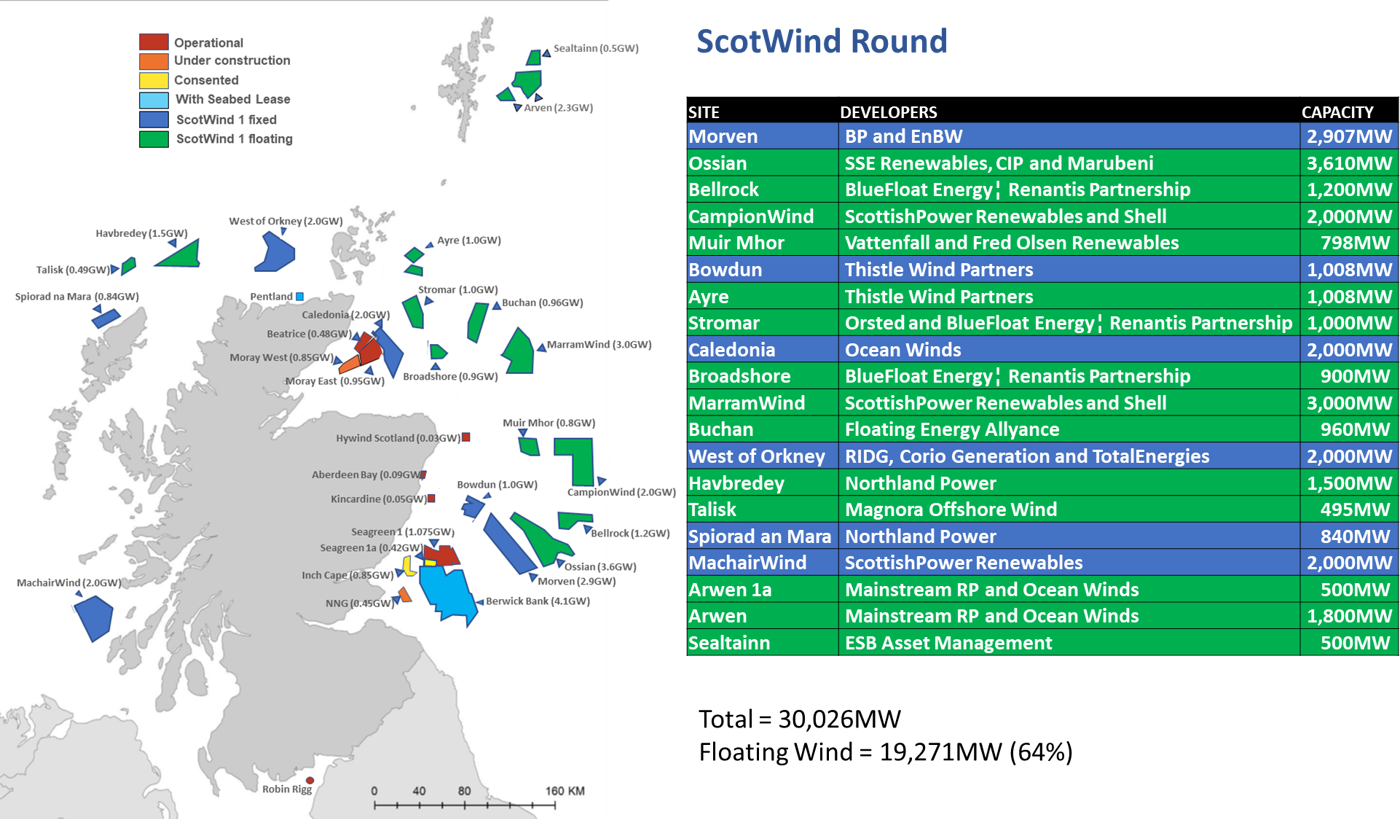 The next step in the process involved each of the developers signing their Option Agreements from CES and to return them before the end of March 2022. All Option Agreements have now been signed and the developers involved will now proceed with site development activities and will start to prepare their planning applications to Marine Scotland. 
Shetland NE1- Clearing Round
Part of the original ScotWind leasing round allowed for a Clearing Round for any unallocated sites to be made available to any of the ScotWind developers who had bid on a site but had been unsuccessful. The NE1 site to the East of Shetland was made available for this Clearing Round and a short competitive round has resulted in three more floating wind sites being added to the ScotWind total. Ocean Winds, Mainstream Renewables Power and ESB have been successful with leases on this site. The nominal capacity of this site in the original ScotWind round was up to 2GW and the successful applicants have raised the final capacity figure for the site to 2.8GW in total. As these 3 additional leases are floating wind, and along with the developer extensions mentioned above, they now increase the floating wind capacity in the whole ScotWind round to just over 19GW and the overall round capacity to just over 30GW.
The offshore market in Scotland
Find out more about the market and current leasing rounds.